You are here
California and Texas collaborated to arrest Carl Ferrer, CEO of site that makes millions from escort ads said to lead to human trafficking of adults and children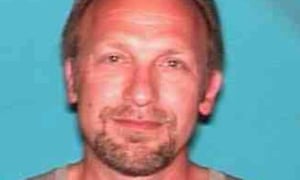 Carl Ferrer, CEO of Backpage, was arrested on felony charges of pimping a minor, pimping and conspiracy to commit pimping. Photograph: AP
State agents raided the Dallas headquarters of adult classifieds site Backpage and arrested CEO Carl Ferrer on Thursday following allegations that adult and child sex-trafficking victims had been forced into prostitution through escort ads posted on the site.
Ferrer, 55, was arrested on a California warrant after arriving at Houston's Bush Intercontinental airport on a flight from Amsterdam, Texas attorney general Ken Paxton said. In a statement, Paxton said agents from his law enforcement unit participated in a search of Backpage's headquarters and Ferrer's arrest.
"Making money off the backs of innocent human beings by allowing them to be exploited for modern-day slavery is not acceptable in Texas," Paxton, a Republican, said in a statement. "I intend to use every resource my office has to make sure those who profit from the exploitation and trafficking of persons are held accountable to the fullest extent of the law."
California attorney general Kamala Harris said Ferrer was arrested on felony charges of pimping a minor, pimping and conspiracy to commit pimping. He is being held in lieu of $500,000 bond and will face an extradition hearing before he can be returned to California.
SEE ALSO: