You are here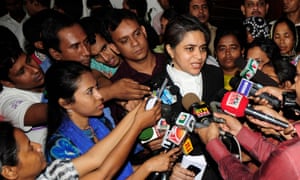 In Bangladesh, women whose actions fall foul of religious conventions have long been subject to punishment by fatwa. Sara Hossain hopes her trailblazing work can tip the balance back in favour of the secular legal system
by Lipika Pelham
Hena Akhter was 14 when she was whipped to death for allegedly having an affair with a married man. There was uproar in local and international media at the time of her death in 2011, followed by a fervent call to outlaw so-called fatwa violence in Bangladesh.
The high court ruled that Hena's body should be exhumed to determine the extent of the violence to which the young girl was subjected. A second post-mortem examination found that she died of septicaemia due to severe internal injuries. The court ordered an investigation, which led to several arrests, including that of the Muslim cleric who issued the fatwa.
That outcome was only made possible by the pioneering work of Sara Hossain, a prominent barrister in the supreme court of Bangladesh. Her campaign to challenge punishments handed out by village shalish courts under fatwas – religious orders inspired by sharia law – has led to groundbreaking rulings based on secular rather than Muslim values.