You are here
The disciplinary actions stem from a major scandal involving a teenager who was sexually exploited by more than a dozen officers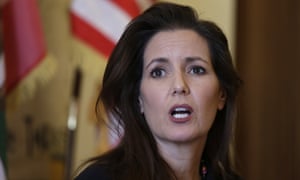 Oakland mayor Libby Schaaf said she was barred from naming the officers disciplined, as critics question why there have ben no criminal charges. Photograph: Eric Risberg/AP
The Oakland, California, police department has fired four officers and suspended seven in a major sexual misconduct case, but critics have questioned why officers haven't faced criminal charges and why an exploitation victim at the center of the case remains behind bars.
The disciplinary actions, announced by city officials on Wednesday, stem from a case involving a teenage girl who was sexually exploited by more than a dozen officers across the northern California region, according to a numerous news reports and the young woman's testimony.
SEE ALSO BACKGROUND: 
"A Toxic Macho Culture" leads to 4th replacement of Oakand Police Chief in 9 days...