You are here
It bars international health organizations that receive U.S. funding from mentioning abortion as a family planning option.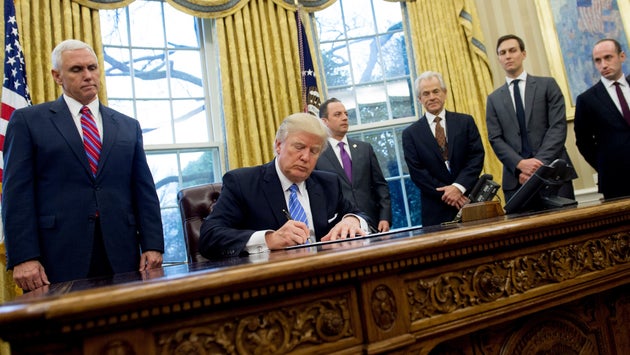 SEE ALSO: Room Full of Men Screws Women
WASHINGTON ― In one of his first acts as president, Donald Trump has reinstated a federal ban on U.S. funding for international health organizations that counsel women on family planning options that include abortion. 
The Mexico City policy, also known as the global gag rule, was first put in place by President Ronald Reagan in 1984. It prohibits giving U.S. funding to nongovernmental organizations that offer or advise on a wide range of family planning and reproductive health options if they include abortion ― even if U.S. dollars are not specifically used for abortion-related services. 
Since then, the gag rule has been something of a political football, rescinded and reinstated as soon as presidents take office. President Bill Clinton did away with the rule, President George W. Bush reinstated it and then President Barack Obama again revoked it in 2009. 
Trump's executive order Monday comes one day after the anniversary of Roe v. Wade, the landmark 1973 Supreme Court case that guaranteed a woman's right to have an abortion, and the week of the annual March for Life in Washington, D.C.