You are here
Study reveals rising number of Mexican girls in relationships and marriages with older men and casts fresh light on causes of child marriage in Latin America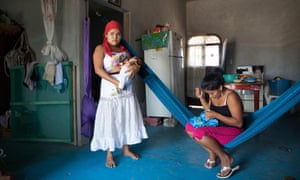 Luz Betsaida Orozco Pineda, who fell pregnant at 13 after she was 'stolen' in accordance with Zapotec tradition, is seen with her baby at their home in Juchitán de Zaragoza, Mexico. Photograph: Bénédicte Desrus/Alamy
Hundreds of thousands of young girls across Mexico are being driven into relationships and marriages with older men, denying them a childhood and an education, new research reveals.
Of the 320,000-plus Mexican girls between the ages of 12 and 17 who are cohabiting, nearly 70% are with a partner who is at least 11 years their senior, according to a report commissioned by the Ford Foundation.
The data represents part of a wider trend across Latin America, the only region in the world where child marriage is increasing rather than in decline.
Researchers found that 83% of married girls had left school, with the number rising to 92% among those living informally with a man. In contrast, just 15% of Mexican girls not in such relationships dropped out of school.
The findings, due to be published next month by a Mexico City-based research group, also show that 25,000 girls aged between 12 and 14 are living in "early unions".
The report comes weeks after the secretary general of the Organization of American States, Luis Almagro, issued a statement pledging to tackle child marriage in Latin America. "With one in five girls married or living in informal unions before the age of 18 we are losing entire generations to poverty, discrimination and violence," he said.
In Mexico, more than 10% of girls are married under the age of 15. Worldwide, the country has the eighth highest number of child marriages (pdf).
While many girls are driven into relationships as a means of acquiring status and security – or to attempt to escape poverty and violence at home – early unions often perpetuate a cycle of abuse and deprivation rooted in gender inequality
SEE ALSO: